Double Sided D-Frames
Features for 005005 - 005016:
Same basic vertical design for

"MDF"

and

"IDF"

frames.
Swivel type mtg. Bracket accepts end or center mount terminal block.
Welded assembly with bolt-on frame components and accessories.
Universal terminal block mounting brackets and protector bars.

"MDF"

and

"IDF"

verticals can be intermixed in a continuous frame line-up.
Double Sided Distribution Frame PDF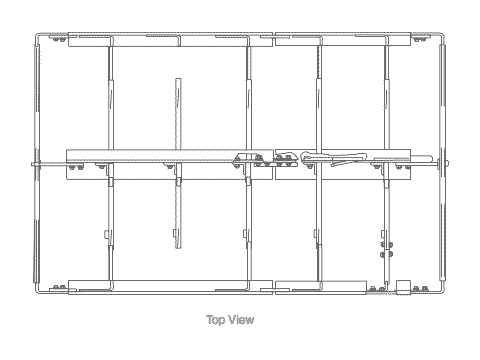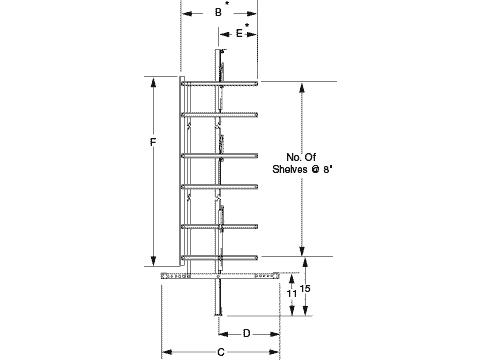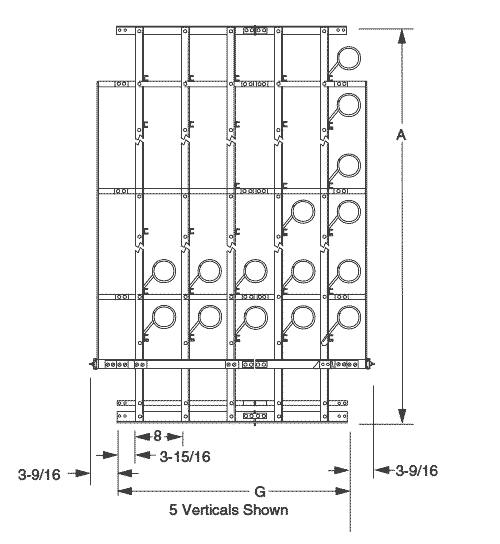 | Start of Part # | Height A | Shelf Width B | Guard Rail Width C | D | E | F | # of Horz. Shelves |
| --- | --- | --- | --- | --- | --- | --- | --- |
| 206993 | 7′-0" | 20-1/2" | 30-1/2" - 36-1/2" | 15-3/4" - 18-3/4" | 10-3/4" | 68" | 9 |
| 207541 | 7′-0″ | 26-1/2″ | 36-1/2″ - 42-1/2″ | 19-3/4″ - 22-3/4″ | 14-3/4″ | 68" | 9 |
| 207545 | 7′-0 ″ | 32-1/2″ | 42-1/2″ - 48-1/2″ | 23-3/4″ - 26-3/4″ | 18-3/4″ | 68" | 9 |
| 005005 | 8′-0 ″ | 20-1/2″ | 30-1/2″ - 36-1/2″ | 15-3/4″ - 18-3/4″ | 10-3/4″ | 76" | 10 |
| 005006 | 8′-0 ″ | 26-1/2″ | 36-1/2″ - 42-1/2″ | 19-3/4″ - 22-3/4″ | 14-3/4″ | 76" | 10 |
| 005007 | 8′-0 ″ | 32-1/2″ | 42-1/2″ - 48-1/2″ | 23-3/4″ - 26-3/4″ | 18-3/4″ | 76" | 10 |
| 005008 | 9′-0 ″ | 20-1/2″ | 30-1/2″ - 36-1/2″ | 15-3/4″ - 18-3/4″ | 10-3/4″ | 92" | 11 |
| 005009 | 9′-0 ″ | 26-1/2″ | 36-1/2″ - 42-1/2″ | 19-3/4″ - 22-3/4″ | 14-3/4″ | 92" | 11 |
| 005010 | 9′-0 ″ | 32-1/2″ | 42-1/2″ - 48-1/2″ | 23-3/4″ - 26-3/4″ | 18-3/4″ | 92" | 11 |
| 005011 | 11′-6″ | 20-1/2″ | 30-1/2″ - 36-1/2″ | 15-3/4″ - 18-3/4″ | 10-3/4″ | 124" | 15 |
| 005012 | 11′-6″ | 26-1/2″ | 36-1/2″ - 42-1/2″ | 19-3/4″ - 22-3/4″ | 14-3/4″ | 124" | 15 |
| 005013 | 11′-6″ | 32-1/2″ | 42-1/2″ - 48-1/2″ | 23-3/4″ - 26-3/4″ | 18-3/4″ | 124" | 15 |
| 005014 | 11′-8″ | 20-1/2″ | 30-1/2″ - 36-1/2″ | 15-3/4″ - 18-3/4″ | 10-3/4″ | 124" | 15 |
| 005015 | 11′-8″ | 26-1/2″ | 36-1/2″ - 42-1/2″ | 19-3/4″ - 22-3/4″ | 14-3/4″ | 124" | 15 |
| 005016 | 11′-8″ | 32-1/2″ | 42-1/2" - 48-1/2″ | 23-3/4″ - 26-3/4″ | 18-3/4″ | 124" | 15 |
Dash Number
Description
G
1
Group of 1 vert.
7-7/8″
2
Group of 2 vert.
15-7/8″
3
Group of 3 vert.
23-7/8″
4
Group of 4 vert.
31-7/8″
5
Group of 5 vert.
39-7/8″
6
Group of 6 vert.
47-7/8″
7
Group of 7 vert.
55-7/8″
8
Group of 8 vert.
63-7/8″
9
Group of 9 vert.
71-7/8″
10
Group of 10 vert.
79-7/8″
11
Junction Kit
--
12
Left End Guard
--
13
Right End Guard
--
30

"IDF"

Vertical
--
40

"MDF"

Vertical
--