Newton Security Cage Panels
Door Panels options for Newton Security Caging
Door panels
The hole patterns in all door panels have been designed so that they flow seamlessly with the patterns in the side panels, giving a more aesthetically pleasing look to the overall cage.
All door panels are made of 16 gauge steel and painted with a powder coat, polyester paint. Door configurations available have been extended to provide 1-1/2″ square holes, 1/2″ square holes and solid (vision proof) patterns to match existing panel options.
All 41″ wide doors are universal in that they can be either left-hand or right-hand closing. An additional 27″ wide door is available in either a left-hand or right-hand closing option. Please specify when ordering.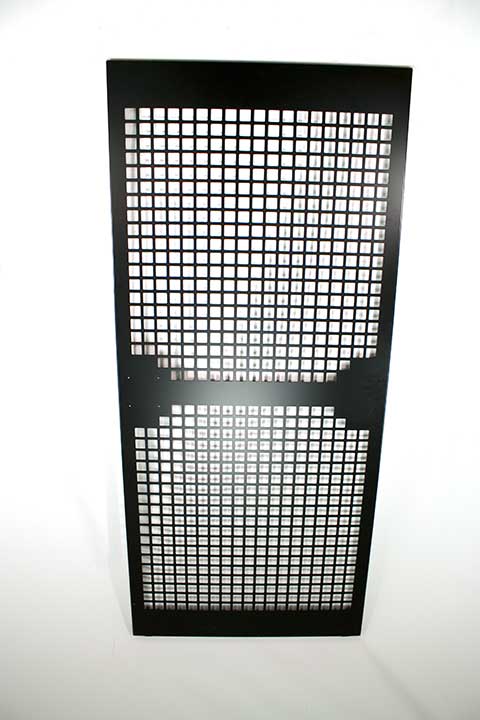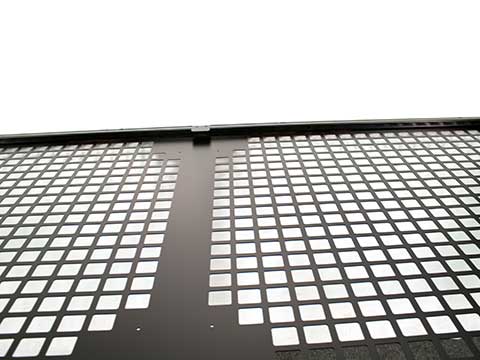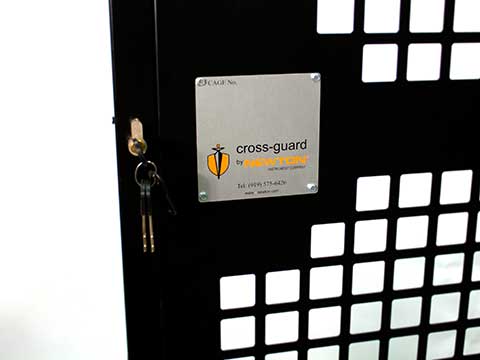 Door Ordering

| Newton Part # | Type | width | Hole Pattern | | Height |
| --- | --- | --- | --- | --- | --- |
| 2229200048 | standard | 27″ | 1.5″ square holes | 94.5″ | LH |
| 2229300048 | standard | 27″ | 1.5″ square holes | 94.5″ | RH |
| 2229210048 | standard | 41″ | 1.5″ square holes | 94.5″ | -- |
| 2228320048 | standard | 41″ | Vision proof (solid) | 94.5″ | -- |
| 2226580048 | standard | 41″ | 0.5″ square holes | 94.5″ | -- |
| 2229220048 | standard | 41″ | 1.5″ square holes | 87.875″ | -- |
| 2229610048 | standard | 41″ | Vision proof (solid) | 87.875″ | -- |
| 2231140048 | standard | 41″ | Hybrid | 94.5″ | -- |
| 2231630048 | swing | 45.5″ | 1.5″ square holes | 94.5″ | -- |
| 2231635148 | swing | 45.5″ | .5″ square holes | 94.5″ | -- |
| 2229020048 | Door Tack Kit | -- | -- | -- | -- |