Equipment Racks: NGN
Newton's Next Gen (NGN) Seismic Unequal Flange Equipment Racks
The NGN Rack is a seismically rated Unequal Flange Equipment Rack which can be configured as an UFER or Network bay by choosing the appropriate front guard rail at time of order. Designed specifically to cross the boundary of EIA and GR-63, this rack has several ordering options including open or closed duct, various height options in 19″ or 23″ widths and optional top angle. Mounting hole patterns are available in WECO 1″ EIA Wide (1-1/4″ - 1/2″) and EIA universal (5/8″ -5/8″ -1/2″)
Newton's 7′–0″ NGN is a seismically tested zone 4 rack with 17.75″ between the uprights on the 19″ version (according to the EIA 310 guidelines). It provides open access to the base and integral cable tie bars for faster installation.
00492001xx - 00498706xx
NGN Equipment Rack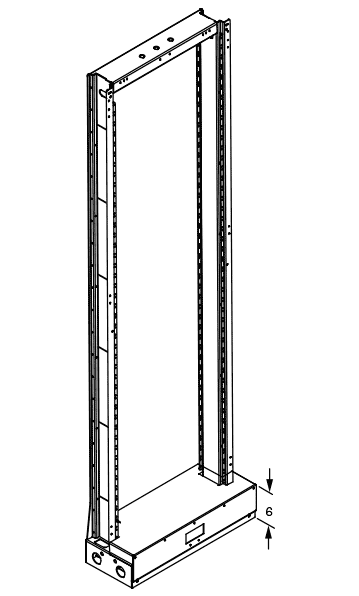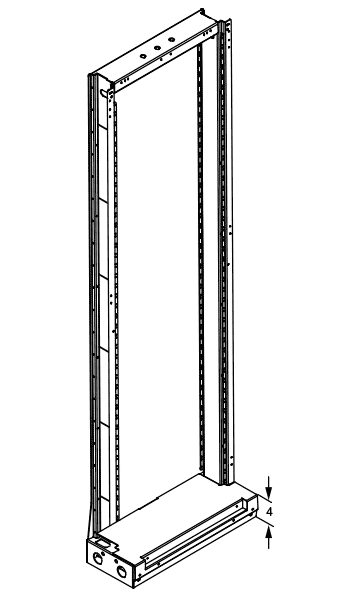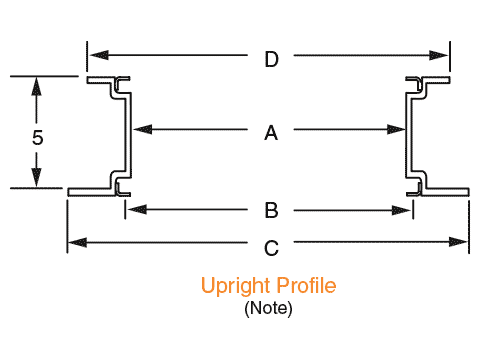 Notes
Equipment mounting: refer to tables for mounting hole spacing and mounting spaces. All racks are double side drilled and tapped as shown.
Meets the earthquake criteria (seismic Zone 4). GR-63-core when loaded with 500 pounds to simulate rack mounted equipment.
Base mounting pattern (refer to section a-a) meets the criteria of GR-63-core.
Product weight (pounds, approximate): 7′–0″ (100).
Table below shows complete part numbers for a limited selection of NGN. Newton has several NGN configurations to fit your application, contact your Customer Service Representative for other height and mounting options
NGN UFER Ordering Table

| Part Number | A | B | C | D | E | F | Rack | Duct | Hole Pattern | Mounting Spaces | Height | Color |
| --- | --- | --- | --- | --- | --- | --- | --- | --- | --- | --- | --- | --- |
| 0049200131 | 21-3/4″ | 22-15/16″ | 25-7/8″ | 23-7/8″ | 17-7/16″ | 12-3/8″ | 23″ UFER | closed | 1″WECO | 74 | 7′-0″ | gray 31 |
| 0049200164 | 21-3/4″ | 22-15/16″ | 25-7/8″ | 23-7/8″ | 17-7/16 | 12-3/8″ | 23″ UFER | closed | 1″WECO | 74 | 7′-0″ | blue 64 |
| 0049210131 | 21-3/4″ | 22-15/16″ | 25-7/8″ | 23-7/8″ | 17-7/16 | 12-3/8″ | 23″ UFER | closed | EIA Wide | 42 | 7′-0″ | gray 31 |
| 0049210231 | 21-3/4″ | 22-15/16″ | 25-7/8″ | 23-7/8″ | 17-7/16 | 12-3/8″ | 23″ UFER | closed | EIA Wide | 42 | 7′-0″with top angle | gray 31 |
| 0049210431 | 21-3/4″ | 22-15/16″ | 25-7/8″ | 23-7/8″ | 17-7/16 | 12-3/8″ | 23″ UFER | closed | EIA Wide | 45 | 7′-6″ with top angle | gray 31 |
| 0049210631 | 21-3/4″ | 22-15/16″ | 25-7/8″ | 23-7/8″ | 17-7/16 | 12-3/8″ | 23″ UFER | closed | EIA Wide | 49 | 8′-0″with top angle | gray 31 |
| 0049220131 | 21-3/4″ | 22-15/16″ | 25-7/8″ | 23-7/8″ | 17-7/16 | 12-3/8″ | 23″ UFER | closed | EIA Universal | 42 | 7′-0″ | gray 31 |
| 0049260131 | 21-3/4″ | 22-15/16″ | 25-7/8″ | 23-7/8″ | 17-7/16 | 12-3/8″ | 23″ UFER | open | EIA Wide | 42 | 7′-0″ | gray 31 |
| 0049270231 | 21-3/4″ | 22-15/16″ | 25-7/8″ | 23-7/8″ | 17-7/16 | 12-3/8″ | 23″ UFER | open | EIA Universal | 42 | 7′-0″with top angle | gray 31 |
| 0049270245 | 21-3/4″ | 22-15/16″ | 25-7/8″ | 23-7/8″ | 17-7/16 | 12-3/8″ | 23″ UFER | open | EIA Universal | 42 | 7′-0″with top angle | black 45 |
| 0049300131 | 17-3/4″ | 18-15/16″ | 21-7/8″ | 19-7/8″ | 13-7/16″ | 8-3/8″ | 19″ UFER | closed | 1″WECO | 74 | 7′-0″ | gray 31 |
| 0049310131 | 17-3/4″ | 18-15/16″ | 21-7/8″ | 19-7/8″ | 13-7/16″ | 8-3/8″ | 19″ UFER | closed | EIA Wide | 42 | 7′-0″ | gray 31 |
| 0049310231 | 17-3/4″ | 18-15/16″ | 21-7/8″ | 19-7/8″ | 13-7/16″ | 8-3/8″ | 19″ UFER | closed | EIA Wide | 42 | 7′-0″ | gray 31 |
| 0049310431 | 17-3/4″ | 18-15/16″ | 21-7/8″ | 19-7/8″ | 13-7/16″ | 8-3/8″ | 19″ UFER | closed | EIA Wide | 42 | 7′-0″ | gray 31 |
| 0049320131 | 17-3/4″ | 18-15/16″ | 21-7/8″ | 19-7/8″ | 13-7/16″ | 8-3/8″ | 19″ UFER | closed | EIA Universal | 42 | 7′-0″ | gray 31 |
| 0049320164 | 17-3/4″ | 18-15/16″ | 21-7/8″ | 19-7/8″ | 13-7/16″ | 8-3/8″ | 19″ UFER | closed | EIA Universal | 42 | 7′-0″ | blue 64 |
| 0049320231 | 17-3/4″ | 18-15/16″ | 21-7/8″ | 19-7/8″ | 13-7/16″ | 8-3/8″ | 19″ UFER | closed | EIA Universal | 42 | 7′-0″ | gray 31 |
| 0049320331 | 17-3/4″ | 18-15/16″ | 21-7/8″ | 19-7/8″ | 13-7/16″ | 8-3/8″ | 19″ UFER | closed | EIA Universal | 42 | 7′-0″ | gray 31 |
| 0049320431 | 17-3/4″ | 18-15/16″ | 21-7/8″ | 19-7/8″ | 13-7/16″ | 8-3/8″ | 19″ UFER | closed | EIA Universal | 42 | 7′-0″ | gray 31 |
| 0049320631 | 17-3/4″ | 18-15/16″ | 21-7/8″ | 19-7/8″ | 13-7/16″ | 8-3/8″ | 19″ UFER | closed | EIA Universal | 42 | 7′-0″ | gray 31 |
| 0049360331 | 17-3/4″ | 18-15/16″ | 21-7/8″ | 19-7/8″ | 13-7/16″ | 8-3/8″ | 19″ UFER | open | EIA Wide | 42 | 7′-0″ | gray 31 |
| 0049370131 | 17-3/4″ | 18-15/16″ | 21-7/8″ | 19-7/8″ | 13-7/16″ | 8-3/8″ | 19″ UFER | open | EIA Universal | 42 | 7′-0″ | gray 31 |
| 0049370231 | 17-3/4″ | 18-15/16″ | 21-7/8″ | 19-7/8″ | 13-7/16″ | 8-3/8″ | 19″ UFER | open | EIA Universal | 42 | 7′-0″ | gray 31 |
| 0049370245 | 17-3/4″ | 18-15/16″ | 21-7/8″ | 19-7/8″ | 13-7/16″ | 8-3/8″ | 19″ UFER | open | EIA Universal | 42 | 7′-0″ | black 45 |
NGN Network Bay Ordering Table

| Part Number | A | B | C | D | E | F | Rack | Duct | Hole Pattern | Mounting Spaces | Height | Color |
| --- | --- | --- | --- | --- | --- | --- | --- | --- | --- | --- | --- | --- |
| 0049710131 | 21-3/4″ | 22-5/16″ | 25-7/8″ | 23-7/8″ | 17-7/16″ | 12-3/8″ | 23″ Network Bay | closed | EIA Wide | 44 | 7′-0″ | gray 31 |
| 0049710145 | 21-3/4″ | 22-5/16″ | 25-7/8″ | 23-7/8″ | 17-7/16″ | 12-3/8″ | 23″ Network Bay | closed | EIA Wide | 44 | 7′-0″ | black 45 |
| 0049710164 | 21-3/4″ | 22-5/16″ | 25-7/8″ | 23-7/8″ | 17-7/16″ | 12-3/8″ | 23″ Network Bay | closed | EIA Wide | 44 | 7′-0″ | blue 64 |
| 0049720131 | 21-3/4″ | 22-5/16″ | 25-7/8″ | 23-7/8″ | 17-7/16″ | 12-3/8″ | 23″ Network Bay | closed | EIA Universal | 44 | 7′-0″ | gray 31 |
| 0049720145 | 21-3/4″ | 22-5/16″ | 25-7/8″ | 23-7/8″ | 17-7/16″ | 12-3/8″ | 23″ Network Bay | closed | EIA Universal | 44 | 7′-0″ | black 45 |
| 0049760331 | 21-3/4″ | 22-5/16″ | 25-7/8″ | 23-7/8″ | 17-7/16″ | 12-3/8″ | 23″ Network Bay | open | EIA Wide | 44 | 7′-0″ | gray 31 |
| 0049770131 | 21-3/4″ | 22-5/16″ | 25-7/8″ | 23-7/8″ | 17-7/16″ | 12-3/8″ | 23″ Network Bay | open | EIA Universal | 44 | 7′-0″ | gray 31 |
| 0049770147 | 21-3/4″ | 22-5/16″ | 25-7/8″ | 23-7/8″ | 17-7/16″ | 12-3/8″ | 23″ Network Bay | open | EIA Universal | 44 | 7′-0″ | black 47 |
| 0049800131 | 17-3/4″ | 18-15/16″ | 21-7/8″ | 19-7/8″ | 13-7/16″ | 8-3/8″ | 19″ Network Bay | closed | 1″WECO | 76 | 7′-0″ | gray 31 |
| 0049800231 | 17-3/4″ | 18-15/16″ | 21-7/8″ | 19-7/8″ | 13-7/16″ | 8-3/8″ | 19″ Network Bay | closed | 1″WECO | 76 | 7′-0″with top angle | gray 31 |
| 0049810145 | 17-3/4″ | 18-15/16″ | 21-7/8″ | 19-7/8″ | 13-7/16″ | 8-3/8″ | 19″ Network Bay | closed | EIA Wide | 44 | 7′-0″ | black 45 |
| 0049810231 | 17-3/4″ | 18-15/16″ | 21-7/8″ | 19-7/8″ | 13-7/16″ | 8-3/8″ | 19″ Network Bay | closed | EIA Wide | 44 | 7′-0″with top angle | gray 31 |
| 0049819231 | 17-3/4″ | 18-15/16″ | 21-7/8″ | 19-7/8″ | 13-7/16″ | 8-3/8″ | 19″ Network Bay | closed | EIA Wide | 44 | 7′-0″with top angle | gray 31 |
| 0049820131 | 17-3/4″ | 18-15/16″ | 21-7/8″ | 19-7/8″ | 13-7/16″ | 8-3/8″ | 19″ Network Bay | closed | EIA Universal | 44 | 7′-0″ | gray 31 |
| 0049820145 | 17-3/4″ | 18-15/16″ | 21-7/8″ | 19-7/8″ | 13-7/16″ | 8-3/8″ | 19″ Network Bay | closed | EIA Universal | 44 | 7′-0″ | black 45 |
| 0049820164 | 17-3/4″ | 18-15/16″ | 21-7/8″ | 19-7/8″ | 13-7/16″ | 8-3/8″ | 19″ Network Bay | closed | EIA Universal | 44 | 7′-0″ | blue 64 |
| 0049820231 | 17-3/4″ | 18-15/16″ | 21-7/8″ | 19-7/8″ | 13-7/16″ | 8-3/8″ | 19″ Network Bay | closed | EIA Universal | 44 | 7′-0″with top angle | gray 31 |
| 0049820264 | 17-3/4″ | 18-15/16″ | 21-7/8″ | 19-7/8″ | 13-7/16″ | 8-3/8″ | 19″ Network Bay | closed | EIA Universal | 44 | 7′-0″with top angle | blue 64 |
| 0049820631 | 17-3/4″ | 18-15/16″ | 21-7/8″ | 19-7/8″ | 13-7/16″ | 8-3/8″ | 19″ Network Bay | closed | EIA Universal | 51 | 8′-0″with top angle | gray 31 |
| 0049860131 | 17-3/4″ | 18-15/16″ | 21-7/8″ | 19-7/8″ | 13-7/16″ | 8-3/8″ | 19″ Network Bay | open | EIA Wide | 44 | 7′-0″ | gray 31 |
| 0049860145 | 17-3/4″ | 18-15/16″ | 21-7/8″ | 19-7/8″ | 13-7/16″ | 8-3/8″ | 19″ Network Bay | open | EIA Wide | 44 | 7′-0″ | black 45 |
| 0049860164 | 17-3/4″ | 18-15/16″ | 21-7/8″ | 19-7/8″ | 13-7/16″ | 8-3/8″ | 19″ Network Bay | open | EIA Wide | 44 | 7′-0″ | blue 64 |
| 0049870131 | 17-3/4″ | 18-15/16″ | 21-7/8″ | 19-7/8″ | 13-7/16″ | 8-3/8″ | 19″ Network Bay | open | EIA Universal | 44 | 7′-0″ | gray 31 |
| 0049870147 | 17-3/4″ | 18-15/16″ | 21-7/8″ | 19-7/8″ | 13-7/16″ | 8-3/8″ | 19″ Network Bay | open | EIA Universal | 44 | 7′-0″ | black 47 |
| 0049870231 | 17-3/4″ | 18-15/16″ | 21-7/8″ | 19-7/8″ | 13-7/16″ | 8-3/8″ | 19″ Network Bay | open | EIA Universal | 44 | 7′-0″with top angle | gray 31 |
| 0049870264 | 17-3/4″ | 18-15/16″ | 21-7/8″ | 19-7/8″ | 13-7/16″ | 8-3/8″ | 19″ Network Bay | open | EIA Universal | 44 | 7′-0″with top angle | blue 64 |