Equipment Racks: Seismic UFER
Seismic Unequal Flange Equipment Rack
The term SUFER stands for Seismic Unequal Flange Equipment Rack. Newton's Seismic UFERS meet earthquake seismic Zone 4 criteria of Telcordia document GR-63-core, when loaded with 500 pounds to simulate rack mounted equipment. The 1st mounting hole in a SUFER starts at 7″ from bottom of frame.
Several ordering options are available including open or closed duct, various height options, and optional top angle
Front guard rail is included with each rack
004601-004608
Standard Unequal Flange Equipment Rack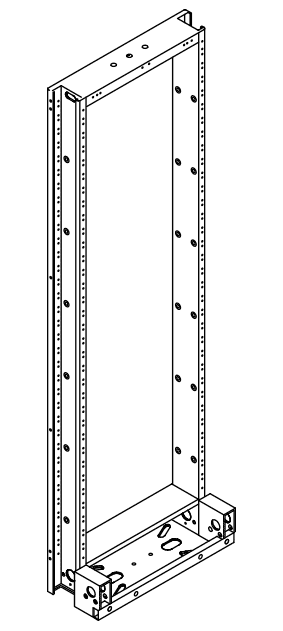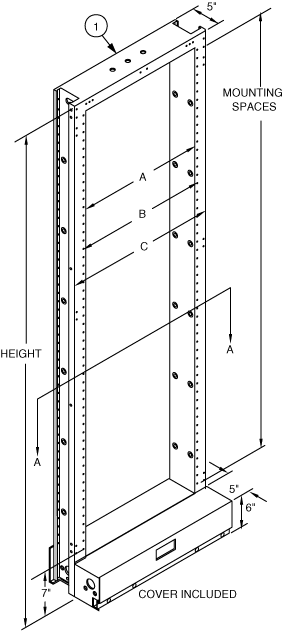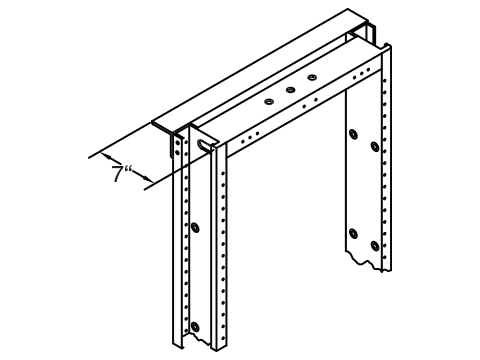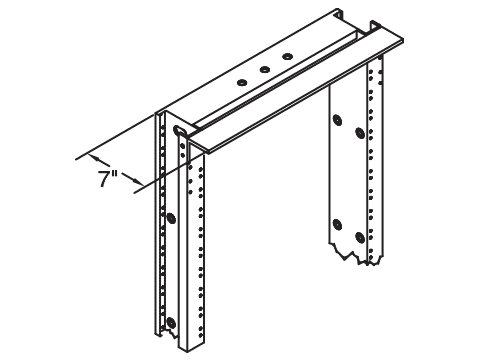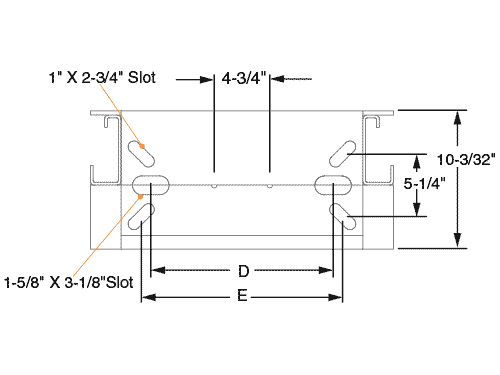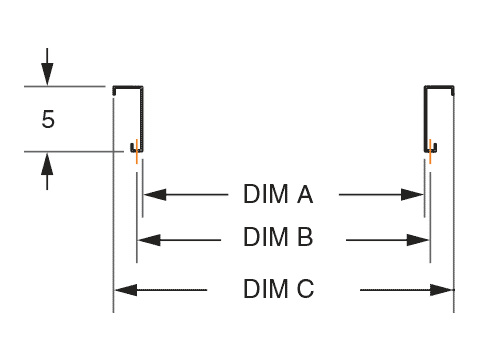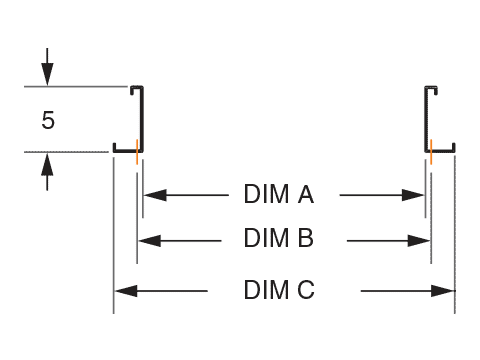 Notes
Standard finish, XX=30.
Order accessories as required.
Front and rear of rack tapped for 12-24 screws.
Cable tie mounts are included; --cable tie straps to be supplied by customer.
Table below shows complete part numbers for a limited selection of SUFERs. Newton has several SUFER configurations to fit your application, contact your Customer Service Representative for other height and mounting options
Seismic UFER

| Part Number | A | B | C | D | E | Rack | Duct | Hole Pattern | Mounting Spaces | Height |
| --- | --- | --- | --- | --- | --- | --- | --- | --- | --- | --- |
| 0046010131 | 21-1/2″ | 22-15/16″ | 25-15/16″ | 11-5/8″ | 15-1/4″ | 23″ | closed | WECO | 76 | 7′-0″ |
| 0046020131 | 21-1/2″ | 22-15/16″ | 25-15/16″ | 15-5/8″ | 15-1/4″ | 23″ | closed | EIA WIde | 43 | 7′-0″ |
| 0046020130 | 21-1/2″ | 22-15/16″ | 25-15/16″ | 15-5/8″ | 15-1/4″ | 23″ | closed | EIA WIde | 43 | 7′-0″ |
| 0046030131 | 21-1/2″ | 22-15/16″ | 25-15/16″ | 11-5/8″ | 15-1/4″ | 23″ | open | WECO | 76 | 7′-0″ |
| 0046040131 | 21-1/2″ | 22-15/16″ | 25-15/16″ | 15-5/8″ | 15-1/4″ | 23″ | open | EIA WIde | 43 | 7′-0″ |
| 0046050131 | 17-1/2″ | 18-15/16″ | 21-15/16″ | 11-5/8″ | 13-1/4″ | 19″ | closed | WECO | 76 | 7′-0″ |
| 0046060131 | 17-1/2″ | 18-15/16″ | 21-15/16″ | 15-5/8″ | 13-1/4″ | 19″ | closed | EIA WIde | 43 | 7′-0″ |
| 0046070131 | 17-1/2″ | 18-15/16″ | 21-15/16″ | 11-5/8″ | 13-1/4″ | 19″ | open | WECO | 76 | 7′-0″ |
| 0046080131 | 17-1/2″ | 18-15/16″ | 21-15/16″ | 15-5/8″ | 13-1/4″ | 19″ | open | EIA WIde | 43 | 7′-0″ |