Equipment Racks: UFER
Newton's Unequal Flange Equipment Racks
The term UFER stands for Unequal Flange Equipment Rack. UFERs are used in telecommunication and data rooms around the world to house equipment essential to communication. The 1st mounting hole in a UFER starts at 6″ from bottom of frame. The 004095 series is designed to fit into a regulated telecommunication room that does not require the more stringent seismically rated rack. Newton has several UFER product families, each with its own weight capacity and features. Select the tab to find out more about the Product family.
004095xxxx - 004102xxxx
Unequal Flange Equipment Rack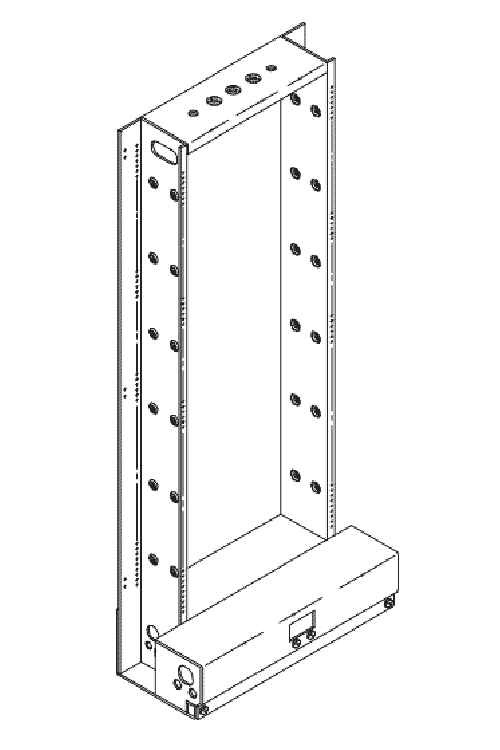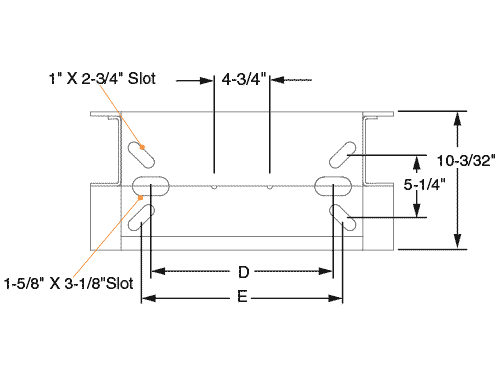 Notes
XX= finish code; standard finish, XX=30.
Order accessories as required.
Front and rear of rack tapped for 12-24 screws.
Cable tie mounts are included; cable tie straps to be supplied by customer.
Table below shows complete part numbers. Contact your Customer Service Representative for other height and mounting options
UFER Ordering Table

| Part Number | A | B | C | D | E | Rack | Duct | Hole Pattern | Mounting Spaces | Height |
| --- | --- | --- | --- | --- | --- | --- | --- | --- | --- | --- |
| 0040950130 | 17-1/2″ | 18-15/16″ | 21-15/16″ | 11-5/8″ | 13-1/4″ | 19″ | closed | WECO | 74 | 7′-0″ |
| 0040960130 | 21-1/2″ | 22-15/16″ | 25-15/16″ | 15-5/8″ | 15-1/4″ | 23″ | closed | WECO | 74 | 7′-0″ |
| 0040970130 | 17-1/2″ | 18-15/16″ | 21-15/16″ | 11-5/8″ | 13-1/4″ | 19″ | closed | EIA WIde | 43 | 7′-0″ |
| 0040980130 | 21-1/2″ | 22-15/16″ | 25-15/16″ | 15-5/8″ | 15-1/4″ | 23″ | closed | EIA WIde | 43 | 7′-0″ |
| 0040980131 | 21-1/2″ | 22-15/16″ | 25-15/16″ | 15-5/8″ | 15-1/4″ | 23″ | closed | EIA WIde | 43 | 7′-0″ |
| 0040990130 | 17-1/2″ | 18-15/16″ | 21-15/16″ | 11-5/8″ | 13-1/4″ | 19″ | open | WECO | 74 | 7′-0″ |
| 0041000130 | 21-1/2″ | 22-15/16″ | 25-15/16″ | 15-5/8″ | 15-1/4″ | 23″ | open | WECO | 74 | 7′-0″ |
| 0041010130 | 17-1/2″ | 18-15/16″ | 21-15/16″ | 11-5/8″ | 13-1/4″ | 19″ | open | EIA WIde | 43 | 7′-0″ |
| 0041020130 | 21-1/2″ | 22-15/16″ | 25-15/16″ | 15-5/8″ | 15-1/4″ | 23″ | open | EIA WIde | 43 | 7′-0″ |